Cleaning Solar Panels with Simple Green
Today I'm going to show you how to do a thorough cleaning of solar panels with "Simple Green".
The truth is, the procedure I'm about to show you is way much safer than scrubbing the panels on the roof. It can be applied to all types of solar system mounting: solar panels installed on the ground and those on the roof as well.
If you are unsure will simple green cleaner hurt solar panels, this post is for you.
Spoiler alert: Simple Green does not hurt solar panels.
So let's dive right in.
Disclosure: Some of the links below are affiliate links. This means that, at zero cost to you, howtogosolar.org will earn an affiliate commission if you click through the link and finalize a purchase.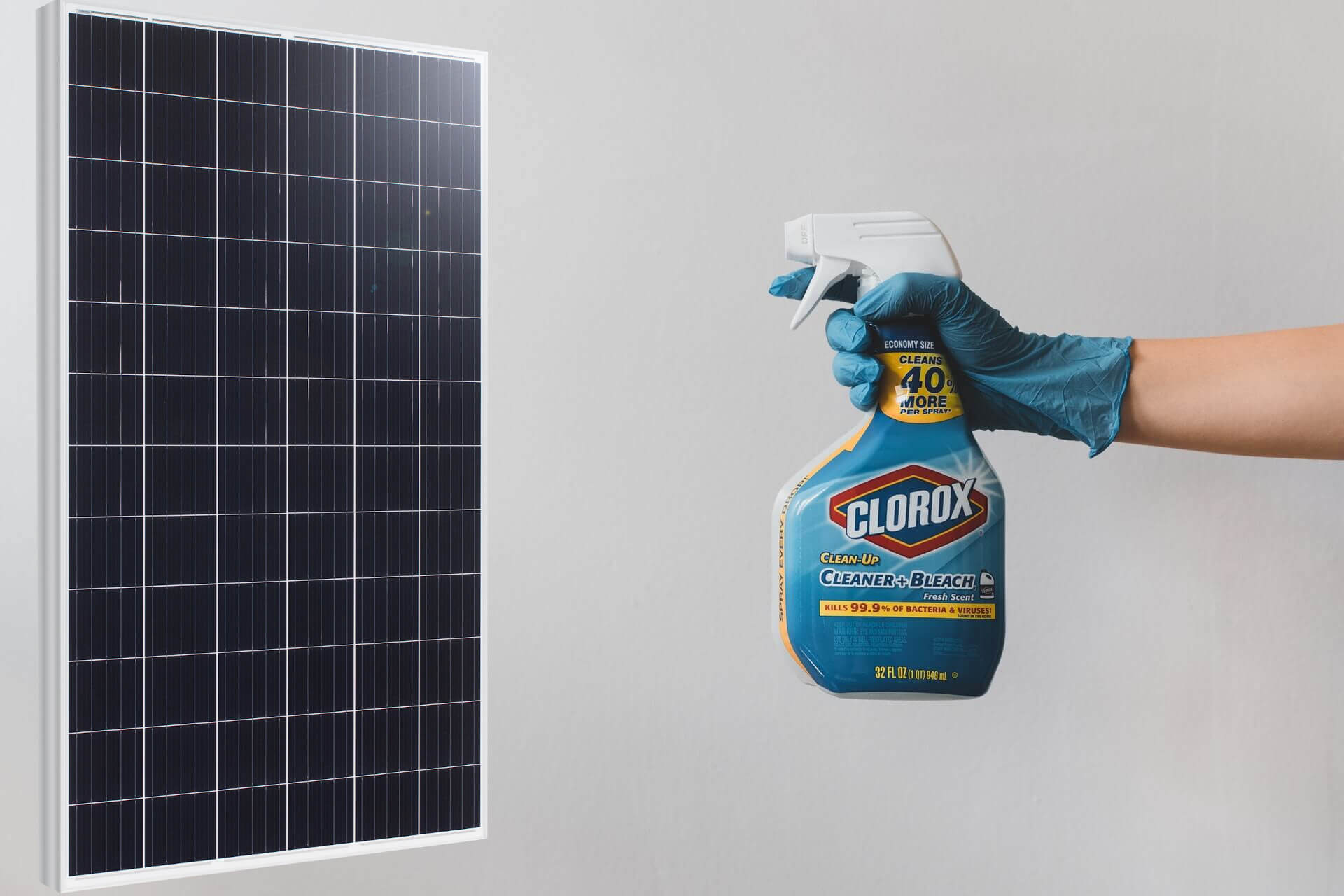 How to Clean Dirty Solar Panels
Cleaning solar panels with Simple Green can easily remove ash, dust, and whatnot, even if it's settled on the roof and panels for quite some time.
Sometimes it's tough to get all this stuff off only by flushing it with a hose. In the best-case scenario, you'll just create streaks and water spots.
How to Clean Solar Panels From the Ground
So I found an easy way to clean solar panels without having to get up on the roof, and we're going to see how to do it from the ground.
For those asking - "how to clean solar panels on a roof?" the answer is simple. All you need is a "Simple Green" all-purpose cleaner and a car wash sprayer with a soap container that attaches to your garden hose.
Any kind of sprayer with the soap bottle will do the job; there are plenty of them offered on amazon for under $20, like the one shown here:
You simply fill the soap bottle with Simple Green, hook the sprayer to your hose, and there's a valve up at the top that either allows you to spray-rinse with water or clean with soapy water.
The stuff is suitable for outdoor use because it won't harm your plants, so if you don't have gutters and it's just going to be running down onto your lawn, it's not a problem.
Here is a video of cleaning solar panels on the roof with simple green and garden hose sprayer:
In the video, you can see the top of the hose. You hook the hose in on the left side, and right here on the top, you have off, rinse, and clean.
So when you start, you're going to have it in the rinse setting, and you're going to spray your panels down in the rinse setting just to get them wet.
Then you're going to flip it over to clean, which pulls the "Simple Green" solution up out of the bottle and sprays it out the end, and you're going to spray your panels.
Once you've sprayed them, you want to let them sit for 15-20 seconds and then flip it back over to rinse, to thoroughly rinse your panels off.
You should start from the top of your roof and work your way down, so your hosing watered down the roof and not trying to shoot stuff up the roof.
Best Time of Day to Clean Solar Panels
It would be the best time of day to start cleaning your solar panels in the late afternoon when the sun's not beating on the panels, so they don't dry out too quickly and create water spots.
Cleaning Ash off Solar Panels
Any buildup of ash and smoke can be easily removed by carefully following the steps for cleaning solar panels with 'simple green' explained in the next section.
How to Properly Clean Solar Panels - Step by Step
So here's the process one more time:
Start spraying the roof down with just plain water getting everything nice and damp before we switch over to the soap setting (Simple Green in our case).
Now we're switching over to the soap setting. Start from the top, work your way down and get everything nice and evenly coated with that soap solution before shutting the water down.
Let it soak for 20-30 seconds; you just don't want to let things dry on the roof because that will result in spotting when you come back to rinse it off.
Start rinsing again from the top and work your way down. Make sure you get everything thoroughly cleaned off the roof before you're done.
There are many specialized products for cleaning solar panels, but the truth is you do not need anything expensive. The Simple Green is an excellent enough product for cleaning solar panels.
I haven't had any issues with water spots or anything like that, so it really has done a great job with the solar panels.
So there you have it!
I hope this method will help you answer the question of how to properly clean your solar panels safely.
The bottom line is you don't have to get up on the roof to scrub and clean them or get pool poles out or anything like that. Just spray it, rinse it, walk away, and you're done.