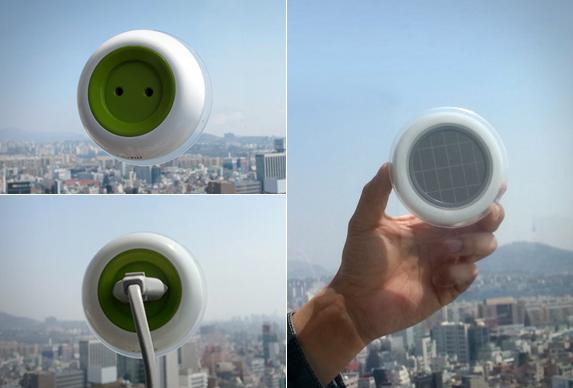 Have you ever wondered how to turn your windows into a solar powered outlet with a 110 Volt AC socket?
A portable solar-powered 110v power supply is the perfect answer on how to do this.
But before I share it with you,
Spoiler alert: Although solar windows charger is running on windows (literally!), the invention has nothing to do with Microsoft. Inventive Korean tandem Boa Oh & Kyuho Song designed it.
What is a solar powered AC outlet?
Simple in design yet very effective, this unique product offers a cool way to convert sun energy into electricity through a regular mains socket.
Solar window chargers can store the energy sufficient for supplying any small electrical device that craves power (US 110V / Europe 220-230V). The power plug attaches quickly to any window.
Solar Powered Outlet Construction
On the front side, there is a vacuum suction plate constructed to be easily attached to (or removed from) the window surface. A small network of concentrated solar panels is designed to maximize the sun's energy, convert it into electricity and is located behind the suction plate.
Electricity generated by solar panels goes to a small charging regulator, which stores the energy into an integrated battery bank. The battery drives a step-up transformer, which brings the voltage up to 110 Volts AC.
A regular wall-like socket is on the opposite side of the solar device - offering you a fully solar powered 110v outlet.
Solar Powered Outlet Performance
It takes 5 to 8 hours of direct sunlight to charge the battery in full. Unfortunately, this elegant solar power outlet with a 110v socket cannot supply a power-hungry device like a vacuum cleaner or microwave oven. Still, for tablets, laptops, or smartphones, it is a perfect solution. You can even turn off the device without unplugging the cable: rotate the plug anti-clockwise, and the power supply is instantly turned off.
During the laboratory stress test, solar powered electric outlet behaved quite well. After laying solar panel in the sun attached to a window from 9 AM to 5 PM, the battery recharged in full. Testing engineers were able to use it to recharge a cellphone in two hours! Quite a good result, even though the manufacturer claims only 1 hour of the continuous power supply!
These direct plug-in 110V AC solar powered portable devices are relatively rare in the market. Usually, similar products act only as solar battery chargers or solar panels to charge phones.
Designers of "Plug It On The Window" solar panel had simplicity and maximum convenience in mind for you to use electricity freely outdoors, in a plane, boat, tent, or car. In other words, now you can use all your favorite "grid" hungry devices and gadgets while you are "off-grid"...
Solar Windows Charger
Solar power window chargers makes charging devices fun with a no fuss Installation.
Easy-to-install using a built in suction cup that attaches to any window.
Built-in rechargeable battery that stores the energy so you can charge your devices around the clock.
TECHNICAL SPECS:
4W solar panel
2,400 mAh battery
AC power socket